No! Not That!
This Vogue….
Rather than bore you with my reaction, which I shall do at the end of this post – no fear there, I thought I would share a letter:
March 22, 2014

Dear Anna,

You know it has taken me so very long to write you this letter — and I know you must have received so very very many before this one …

Though the notion of Mr. West forcing you to put his fiancé onto the Vogue cover had been mentioned and rumored — and I had thought of it very often quite sometime in advance — "Will this really ever happen?" … when the actual and official news came, complete with the photograph by dear Annie, it was a complete surprise and shock…

I was sitting at my desk at work — and when I heard the news from a friend — who had telephoned from her office — that it had just come over the Twitter that the cover was now official — and I was completely dévastée, because "This is Vogue, not Ladies Home Journal" — and because of Vogue's never ending inspiration was forever in the mind of all fashionistas — as the standard and dash of all style forever and ever…

I will not bore you with the details of my critique of this recent course of action — as you are the creator you know where you stand in the minds of your friends, clients, and the entire world of fashion…

I am sure to be free of Kanye's constant nagging of getting dear Kim on the cover is a marvelous thing to look forward to… and I hope with all my heart that your next years will be long and healthy and happily free of such nuisances…

You deserve all of this — as you have given so much to all of us… and I send you my best of love and every affectionate good wish, as you shall need it in this time of uncertainty…

I sincerely hope our paths will cross easily and often — and I shall always remember your great consideration for us, your faithful, on all occasions…

TO'
*****
Okay, here's what I really think:
1. First off, and I mean this in all honesty, Kim has never looked better. That Lanvin dress is gorgeous on her and the makeup and styling are tasteful and Annie Leibovitz does her magic again and the personalities of the subjects come through.
2. The Hashtag. Really Vogue? A Hashtag. On the front cover. Excuse me, and pardon my language, you're fucking Vogue – THE bible for fashion in America. You're supposed to be better than this!
3. With all due respect in the world to Annie Leibovitz and her photography skills – and this might be because I'm used to seeing her in other publications – but the feel of this cover is off. It doesn't scream fashion editorial. In fact; the masthead is wrong. If this had gone down the halls of Condé Nast and had said Vanity Fair on the top instead of Vogue, we'd all be praising this cover to the high heavens. And that's the thing; this doesn't feel like a fashion editorial at all. 
4. That man in the background. While I love the fact that this is a celebration of the couple, I'm surprised that he's being so deferential in the pose. Then again, if the rumors are true that he doggedly hounded Anna Wintour to get his fiancé on the cover, then she probably demanded that he be on there as well. After all, she once allegedly called Ms. Kardashian the worst thing since socks and sandals.
5. Then there is Ms. Wintour's "defense" of the cover (if you can call this milquetoast screed a defense).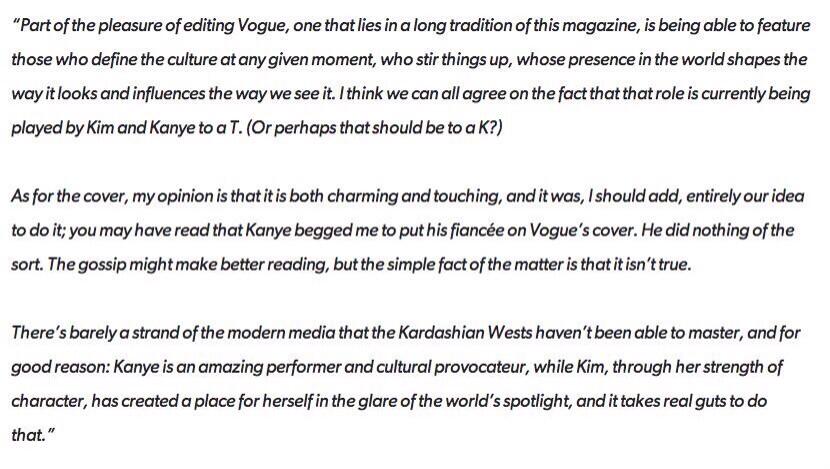 As an editor, I believe that you should stand behind your work but this is the most half-hearted defense of an editorial decision I have ever seen.
6) The Fug Girls, in their takedown of the cover, make a very damn good point; if Vogue was going to take this seriously, then they should have treated it like they do any celebrity they have on the cover by themselves. That is what they do with everyone else. (And they also brought up the shocking point that Victoria Beckham in spite of all of her accomplishments has not been on the cover of American Vogue. Then again when she was on the cover of Vogue France, she was on with her husband, so there's that. Then again, they've also never had Mrs. Harvey Weinstein on the cover in spite of her little clothing line.)
7) My biggest problem with this cover is the same complaint I had, oddly enough, with Yeezus; there's no wit to it. Early on, Kanye West established himself as one of the wittiest wordsmiths in all of rap, with lyrics that you had to pour over to get all of the frighteningly humorous moments that made his songs land with a wallop (one great example is in "Roses" when he said there were "so many aunties you could have an auntie tea" or in "Otis" when he talks about "writing my curses in cursive"). Ever since Yeezus, he's seem to lose any sense of humor that he's had about himself and that is a damn shame. It doesn't help that he is marrying into a clan that is not known for having any sense of humor at all (Khloé, as she proved a few weeks ago holding her own against one of the wittiest entertainers out there, apparently is the exception to this rule – and good on her I say!). Granted, when your mother is That Dreadful Woman who has no compunctions about whoring you out, you tend to be a little dour about life.
Even so, editorial could have had more fun with this. I mean, if the late, great Diana Vreeland were still running things at Vogue, she probably would have done this cover as well and found a way to make it fun and fabulous. And that's my biggest complaint with this whole thing; if Vogue was going to cave in, then damn it all go all in and pull out all the stops. It's that half-assed feel that ramps up the notion that Wintor, et al. did this under duress.
Side Notes:
WRONG! The answer is, of course, this….